21 Dog-Approved Stocking Stuffers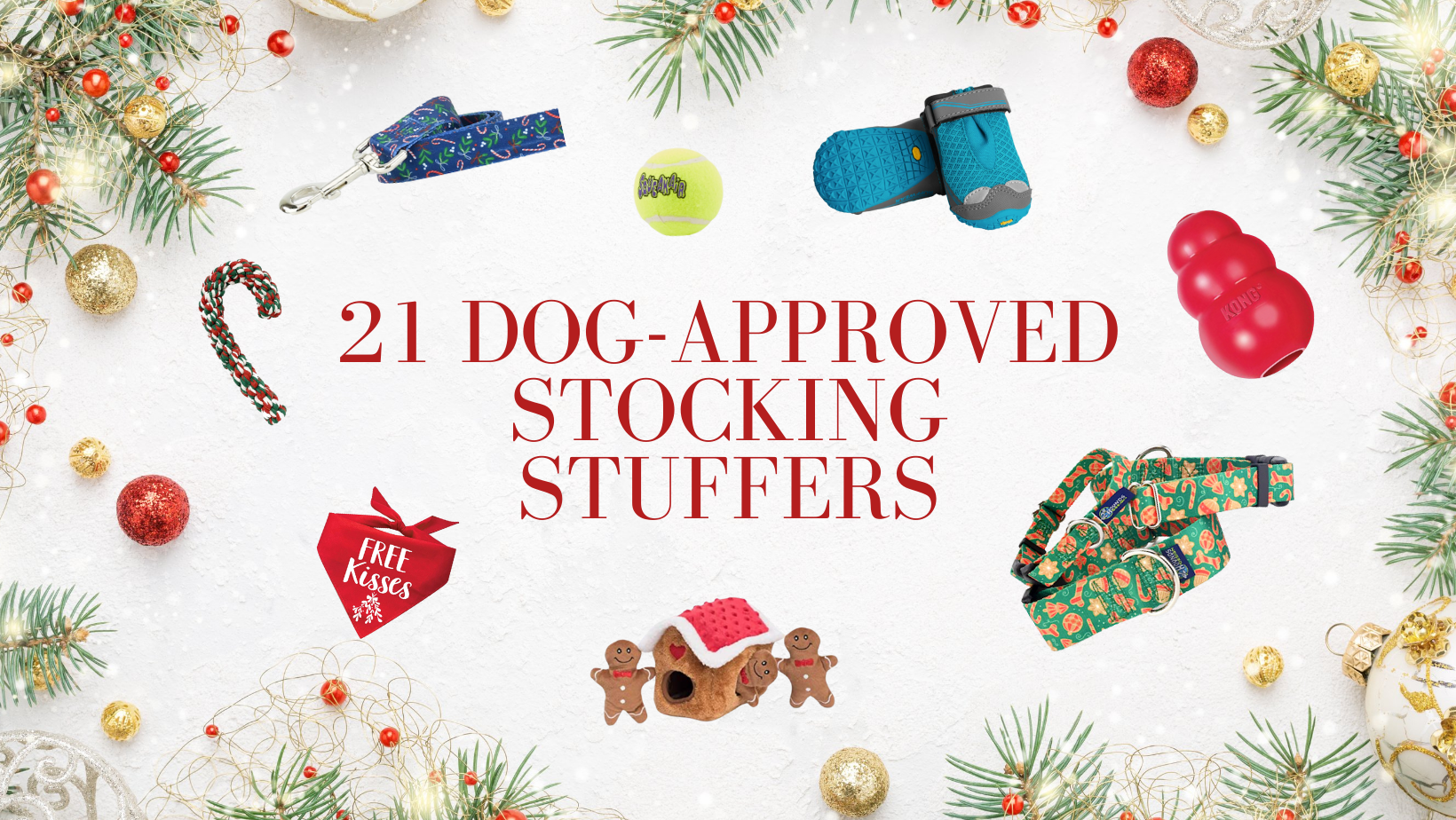 Everyone looks forward to dumping out their Christmas stocking, whether you're a human or a dog. It's a seemingly universal, longtime favorite tradition.
Are we really surprised though? It's a sock filled with sweet treats! What's not to love?
Is it a coincidence that dog-approved items and treats fit perfectly in a typical holiday stocking? We certainly don't think so.
No matter who you're shopping for this season, from rambunctious pups and lazy senior mutts to curious explorers and cuddly pooches, here are the best stocking stuffers for dogs of all sizes and ages.
21 Best Dog-Approved Stocking Stuffers
Whether you're looking for a festive holiday collar or just a new everyday collar, 2 Hounds Design has you covered and it is definitely the perfect size for your pup's stocking. Check out our latest blog post highlighting all our fun holiday designs here.
Did you pick out the perfect 2 Hounds Design collar? Did you know we make a variety of matching leashes for most of our favorite collar and harness styles? Well, now you do! Check out our collection and add a matching leash (or any leash that fits your dog's needs) to your bestie's stocking.
The KONG AirDog Squeakair Ball combines two classic dog toys — the tennis ball and the squeaker toy — to create the perfect fetch toy. This durable, high-quality Squeakair tennis ball will not wear down a dog's teeth. It's made with a special nonabrasive felt, compared to the abrasive material on normal tennis balls. An absolute must when it comes to the stocking list.
A pup favorite across all ages, sizes, and breeds alike. Keep even the most active dogs busy with a good natural bully stick chew. These beef chews don't contain any artificial preservatives, colors, or flavors. Select the twisted bully sticks to challenge your dog and clean their teeth at the same time.
This unbeatable trio is a must for a squeak toy-obsessed dog. These fun toys are designed for medium-sized dogs who love to squeak — with no stuffing to ensure they last longer with less mess.
Treat your pup to this hide-and-seek dog toy that gives your pet hours of fun digging the cookies out of the house. Each cookie has an irresistible noise maker to keep your best friend entertained and challenged. This toy is recommended for dogs of all sizes – but not recommended for extra tough chewers.
For the adventurous pup! Protect those paws that'll follow you anywhere, even when the trail ahead is hot, rocky, or covered in snow and ice. These dog boots have the trail-ready build and performance you'd expect to find on your own feet but are designed specifically with your trail buddy's paws in mind.
What better way for your pooch to show off their holiday spirit? Plus, who doesn't want extra dog kisses at midnight?
Jingle Bells is a great tune and they are fun to have around for the holidays, but no one wants a constant jingling dog tag on their very active pup. But what about their name tag for identification? Never fear, the 2 Hounds Design Jingle Free Tag Collar is here to make sure you have peace of mind on the noise and safety fronts when it comes to your dog.
Do you have a tug-of-war fanatic? Don't fret! We've got the perfect toy for their stocking to keep them occupied all Christmas long! The Candy Cand Rope is perfect for the toughest chewers and extra active pups. Snag one of these for the hardest to entertain dogs in your life.
The unique texture of GREENIES Dog Chews helps clean down to the gum line to fight plaque and tartar while also freshening breath, making these Christmas dog treats a great addition to their dog stocking. Plus, the gingerbread flavor is added festive fun for holidays!
I mean what is a holiday without an embarrassing photo or two? And what makes for a better silly holiday photo with your furry bestie than one with a festive headband?! This is an adjustable headband specially designed for pets, suitable for most medium and large dogs. The head girth is 14″, and with a 6″ length adjustable elastic rope, you can adjust it according to the dog's head circumference.
Do you have an excessive chewer with a sensitive stomach? A great alternative to an edible chew such as the bully stick is this Nylabone. This will occupy those gnarly chewers without upsetting or filling their tummies. Plus, it helps promote positive chewing.
Your best pal deserves the best care when it comes to their body. This paw smoother moisturizes, softens, and soothes dog paws for immediate relief from roughness and dryness. It also prevents excessive licking and itching from allergies. A perfect stocking stuffer that is more than just entertainment, but rather a practical option to protect your sweet pup.
Give your furry friend a reliable and fun plaything with the KONG Classic Dog Toy. Offering enrichment by helping satisfy dogs' instinctual needs, the KONG Classic's unique all-natural red rubber formula is ultra-durable, with an erratic bounce that is ideal for dogs that like to chew, while also fulfilling a dog's need to play. Want to extend playtime? Stuff with KONG's Stuff'N Easy Treat, snacks, or any of their favorite rewards like peanut butter, yogurt, or kibble to keep them going for even longer.
Not all stocking stuffers need to be glamourous, some are just plain practical. If you have read this far we imagine you either have a dog of your own, have a dog you care about, or you're going to have one of the two soon. Whichever category you fall into, just know, you can never go wrong with poop bags. You always need them and they will never be wasted.
Do you always find your dog in a messy situation with little time to handle it? Our waterless shampoo has an answer for you. Get your pets clean quickly with our natural dry shampoo. It gets rid of unpleasant pet smells instantly and is great for pets who dislike water. It's more effective than wipes and can be used to spot treat accidents or for a full body cleanse. It's portable, making it convenient for traveling. It also works great as a detangler and leaves the coat silky smooth and shiny after brushing.
We know your pup is the center of your world. Make sure your home, and more importantly, your Christmas decorations, further prove that with this ornament. Snag this paw-some ornament for your tree and showcase that perfect picture of your best pal with it.
Again, not all stocking stuffers need to be flashy or fun. Some are downright practical. And this is one of those. Get dental health for your dog at your fingertips with these finger dog toothbrushes.
Do you have an over-excited and aggressive eater at every meal? If you answered yes, you need a slow feeder bowl ASAP! Not only will it make mealtime longer lasting for you, but it will protect your overly excited dog from eating too quickly and causing them to choke or have digestive issues because of it.
Let's face it, you can never have too many treats, right? These treats are baked exclusively with wholesome, natural ingredients and never anything artificial. These breakable biscuits are light, crunchy, and satisfying for all dogs — from small breed dogs to large breed dogs, and puppies to seniors. Even the pickiest dog will enjoy these treats!