Are Martingale Collars safe for my dog?
You're likely wondering if the martingale collar you recently bought is safe for your pup.
Or…
You're thinking about purchasing one and you need to be assured of its safety and value.
Or…
You need to know the best practices when using one to achieve the maximum benefits with your pup.
Well, you came to the right place.
Choosing the appropriate collar for your hound is critical. The most basic functions it should serve include:
Providing an anchor point to attach a leash and keep your dog safe at all times
Helping keep your dog's ID tag in place at all times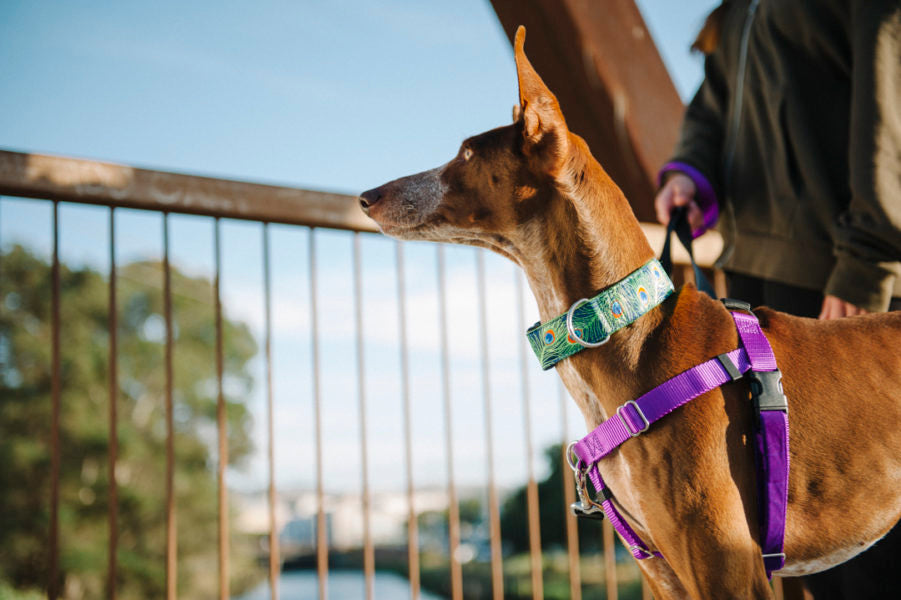 Martingale collars offer the above functions and so much more!
Safety and Benefits of Martingale Collars
5 Martingale Collar Safety Tips
Don't let your dog go outdoors without a leash.
Never leave a new pup unattended while they have a martingale collar on.
Truth is, you and your new pup are still getting accustomed to each other. As your pup adjusts to you and their surroundings, they may get nervous and react by hiding or trying to escape.
The loop on the collar can get caught on something or your dog's teeth can catch on the loop itself. All of which increase the chances of your pup being injured.
Make sure the martingale collar properly fits your dog. Too loose? Your dog will easily slip out of it. Too snug? Choking is seconds away!
Discontinue the use of a martingale collar if your pooch isn't responding to use or training. These collars may work for most dog owners but not necessarily for your dog. You should request assistance from a dog consultant for alternative tools.
Don't allow your pup inside a cage or kennel with their collar on. The collar could easily get caught in the mesh if the edges are not welded. Or worse, your dog could chew on the loop and risk choking.
Key Benefits to Consider
Martingale Collars Are Designed for Safety
Most dogs tend to slip back or out of their collars when they are excited or nervous, putting their safety at risk. This is a common problem in dog breeds that feature ahead narrower than the neck.
Martingale collars tend to tighten when force is exerted, so your hound won't slip out of the collar, keeping them safe.
"Still too big for Ruby (she got sick & had a little setback in her growth) but I can't wait for her to grow into it. She's going to look gorgeous. My Dane has been wearing 2 Hounds Design collars her whole life & they stand the test of time. If a leash can stand up to her enthusiasm, it can handle anything. Very important since Ruby is at the stage where she chews on E V E R Y T H I N G… including her leash…" – E.W.
They Are Stylish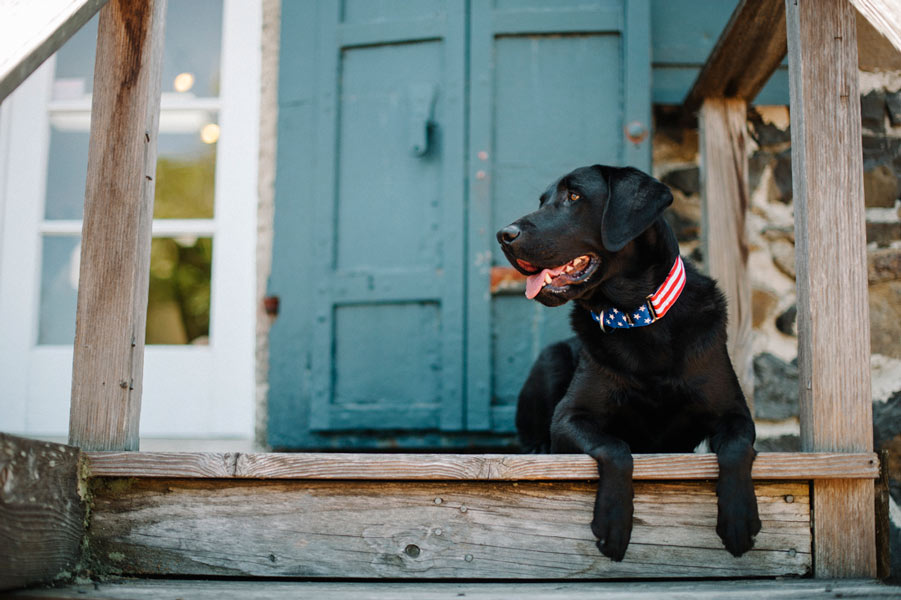 Want to give your pup that classy, elegant, and edgy look?
Martingale dog collars come in a wide array of your favorite colors, patterns, and styles. You'll be spoilt for choice with the martingale collars from 2 Hounds Design.
Sandy Throne a pup owner says,
"The colors go so well with Lola's new Jelly Bean No Pull Harness. She looks great, the quality is very good and I am really happy with it."
They Are Effective for Training Purposes
If you're still teaching your four-legged best friend how to walk on a leash, they're more likely to tug and pull. As luck would have it, the adjustable loop on a martingale collar tightens when pulled against and loosens when the tension stops.
This allows your hound to associate discomfort and tightness with tugging and pulling. Hence, you easily establish good leash behavior.
They Are Gentle
Martingale collars are gentle which makes them a great option for a variety of hounds, irrespective of their size or breed.
They are ideal if you want more control over your hound or if your pup tends to slip or back out of their collar.
Jamie says,
"This collar is absolutely beautiful! I love the quality and uniqueness. It always catches people's attention when my dog wears it. I highly recommend purchasing one or several since there are so many beautiful styles to choose from."
What Breeds Should Wear a Martingale Collar?
Martingale collars were meant for hounds with small heads and large necks – sighthounds.
Examples of sighthounds include:
Greyhound
Irish Wolfhound
Whippets
Scottish Deerhound
Silken Windhound
Pharaoh Hound
Sighthounds are famous for their sharp hunting instincts. They primarily hunt by speed and sight rather than scent. Hence, they normally dart off when chasing fast-moving objects, putting them in danger.
Thank the stars, martingale dog collars are quite effective for use with sighthounds. Made with a double loop, these dog collars allow you to achieve a perfect fit by making adjustments on the strap.
How to Choose the Perfect Martingale Collar for Your Dog
The perfect martingale dog collar should help with your dog's training goals. The collar will also help to keep your pup safe and make your daily walks extra enjoyable.
Here's what you need to consider when choosing the perfect martingale collars for your pooch:
Durability – Your dog's collar should withstand the elements as well as wear and tear over a longer period.
Amanda says,
"The colors and fabric are fantastic. It's soft, smooth, durable, and looks great on our pup!"
Strength – 2 Hounds Design martingale nylon collars are made of nylon webbing that is strong enough to pull a weight of up to 3800 lbs. No matter how hard your hound pulls, it will not break or fray. Also, you can opt for a martingale slip collar, belt buckle collars, or a snap buckle as an additional security measure.
"I have been using these collars on all my dogs. They are all color-coded! The quality is outstanding and they hold up to regular wear and tear and multiple washes monthly. I highly recommend all 2 Hounds Design products!" – Lindsey Cooke
Why not grab this black Side-Release Martingale Nylon Dog Collar for your pooch today?
Adjustability – the collar should be adjustable, especially for growing pups. A martingale dog collar should feature an adjustable loop and another with a D-ring attached to it.
Comfort – The collar should perfectly fit your pooch without strangling or pinching. This means that you have to get the measurement right. 2 Hounds Design size chart can guide you in selecting the right size for your dog's martingale collar.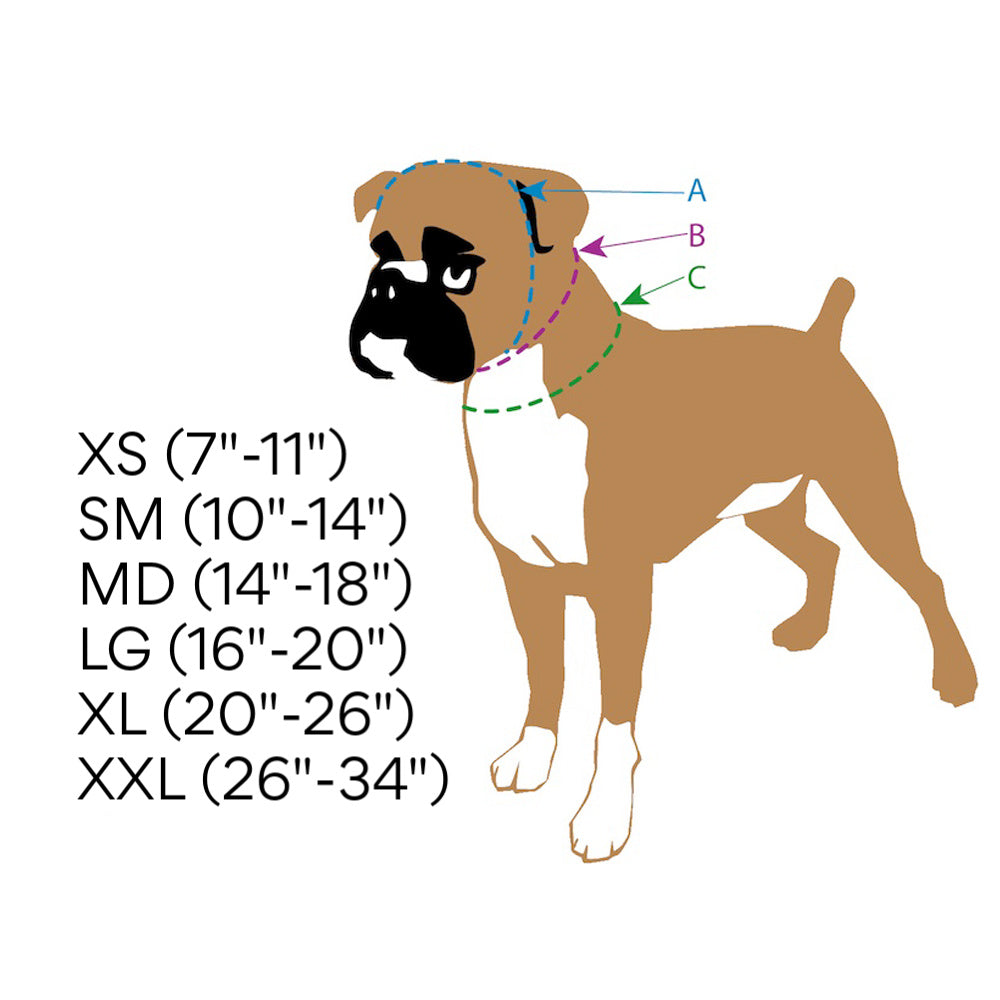 "The collar is a standard. It works. The sizing chart helped me pick the right size for my dog. And the design is amazing! We get so many compliments. Highly recommend." – Carolina Caballero
For martingale dog collars, you will need to take measurements of A, B, and C as indicated on the chart. Then pick the largest measurement and get the appropriate size.
With all of this in mind, I think you'll agree with us when we say that these collars are safe, stylish, effective for training, and can be used for all dog breeds.
You don't want to miss this next part – at 2 Hounds Design, our martingale collars are strong, durable, adjustable, and available in various colors and patterns – exactly what you need to keep your pup safe!
Join the dog party and start having even more fun with your pooch!